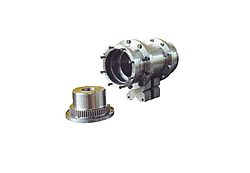 Maina is a high-quality manufacturer of gear coupling products that provide very long service life. Maina couplings are competitively priced for initial installation and because of their robust design are cost-effective in the long run.
For over sixty years Maina has been manufacturing gear couplings of all types and dimensions.
Standard couplings type GO A
Standard couplings consist of two flex half couplings (GO-A) or the combination of a flex half coupling with a rigid hub (GO-FA). The GO-A flex-flex coupling permits angular, axial, and parallel offset. The GO-FA flex-rigid couplings will permit only angular and axial offsets. Up through size 3 all of the main coupling parts; flex hubs, sleeves, and rigid hubs are nitro-oxidised as a standard process. This treatment, which is identifiable from the black colour it imparts, results in higher corrosion resistance and greater surface hardness for improved life.
Large-size couplings type GO B
Couplings for special applications type G20, G35 and G60
Gear couplings for hoist barrels type GTS